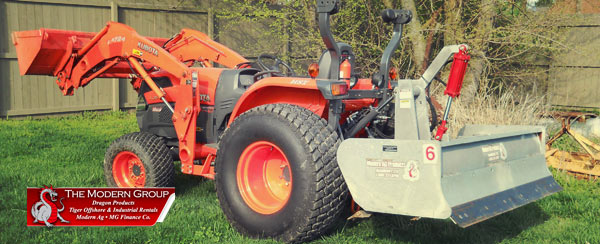 You're always ahead… with a Modern behind!
Known for professional engineering, quality construction, rugged performance and competitive pricing, Modern Ag produces the industry's only line of galvanized tractor implements and 3 point attachments. This all equates to increased durability and a longer life for your investment. The average lifespan of a galvanized unit is increased five to eight fold (AVERAGE 30-40 YEARS) which means unlike paint, the longer you have a galvanized unit the more economical it becomes!
Modern Ag products have been developing and building the finest farm implements that money can buy since 1963. With 50 years of experience, Modern Ag takes pride in producing products with one goal in mind… Customer Satisfaction! Each implement comes with a lengthy warranty and is designed to be user friendly and replacement parts are in stock and available at all times.
Most Modern Ag equipment is manufactured here in the United States with manufacturing facilities in Beaumont, Silsbee, Liberty, and La Porte, Texas along with Lathrop California and Akron, Indiana. As a result of some of the factories being located in Texas, we are able to receive equipment typically within 3 days.
Modern Ag Mission Statement:
As a specialty company, The Modern Group interfaces between manufacturers and end-user customers. Our mission is to ensure that our customers get what they want when they want it, on time and every time. We will accomplish this goal by providing the highest quality products produced in the industry, unequalled levels of service and creative solutions to our customers' needs.
To learn more about Modern Ag, visit ModernUSA.com
---
Contact us today for more information on our line of Modern Ag Implements!
Las Cruces, NM (HQ) - 575-382-3540


Albuquerque, NM - 505-881-4111