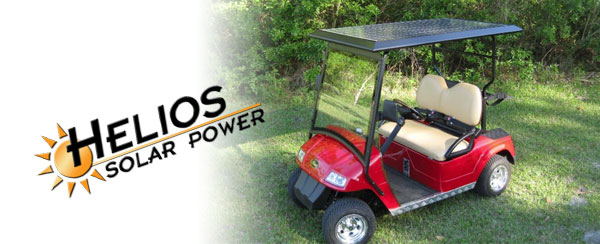 Golf Cart Rooftop Replacement Solar Chargers:
Recent developments in the field of Solar Photovoltaic panel making, high-efficiency charge controllers, and the growing mass production of Solar components have contributed to significantly better and lower priced components for Solar electric systems. The Federal tax credits, grants, and the many state and local utility tax credits, as well as rebates and tariff programs, contribute to making Solar very affordable. In many cases, after all the incentives are utilized, Helios' products become free to the end-user.

 Helios provides a large product line of solar charging systems. We also supply products made by other premium manufacturers of Solar Equipment. All of our products have been tested and inspected  and have a 30 day satisfaction guarantee.
Tax Credits, Grants & Rebates:
30% of the cost of equipment that uses solar energy to generate electricity is a tax credit; below is the paragraph taken from the Instructions for IRS Form 3468:
Section: Line 5b and Line 11b - Enter the basis of any property using solar energy placed in service during the tax year. There are two types of property. 1. Equipment that uses solar energy to illuminate the inside of a structure using fiber-optic distributed sunlight. 2. Equipment that uses solar energy to: a. Generate electricity, b. Heat or cool (or provide hot water for use in) a structure, or c. Provide solar process heat (but not to heat a swimming pool.) Most Individuals and for profit businesses can use this tax credit (contact your accountant to verify that you can use tax credits.)
IRS Form 3468

IRS Instructions for Form 3468

More information about Federal Grants, State & Utility rebates and accelerated depreciation here
Product Line:
HSC 50U - 50 watt maintenance charger






Contact us today for more information on Helio's Solar Rooftop Replacement Chargers!
Las Cruces, NM (HQ) - 575-382-3540


Albuquerque, NM - 505-881-4111