SunBody Hats - The leader in palm-leaf hats
We offer over
12 varieties of Western Style palm leaf hats
, inventory is constantly changing. We keep
sizes 6 7/8 - 8
in stock. SunBody Guatemalan palm leaf hats are TOUGH. They are totally handmade. Palm-leaves are split into strips which are braided into a flat plait. The plait is then sewn together in over-lapping spiral. With 150 feet of strong palm braid, or more, and 20,000 stitches in every hat, these palm-leaf hats can be crushed and spring back to shape.
Why SunBody Palm-Leaf Hats are Great
:
They look great
They're crushable and pop back out to their original shape
They can be easily reshaped just by getting them wet. No steam is required
They're waterproof and will hold their shape even in a heavy downpour
They're washable with just soap and water
They're self-conforming to the shape of your head
SunBody Hats imports palm leaf hats from Guatemala and Mexico where we work directly with hat makers. We shape and trim them in our shop in Houston, Texas.
Wearing a hat to protect your skin is good but not all hats are created equal. A simple cotton hat only blocks 20% of UV rays. Sunbody palm leaf hats block 98% of UV light for an equivalency of UPF 50+.


Sunbody Hats block 95% of harmful UV waves for an equivelancy of UPF 50+.
How to Shape your SunBody Hat
It's fun and you can't hurt it when its wet. Play with it - in thirty minutes you'll be a pro.
Built to shape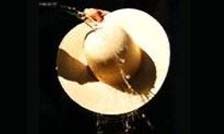 Step One: Get your hat good and wet, inside and out. Spray it, hold it under the faucet or dunk it in a trough or stream.
Crease the Crown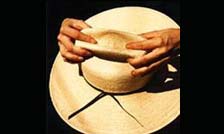 Step Two: Crease the crown (as shown), putting the seam at the back. Shape the side curves like you want them. For symmetry, look at the inside of the crown while working it.
Shape the Brim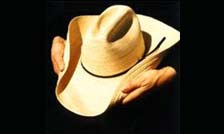 Step Three: Shape the brim by rolling the edges toward the crown. Exaggerate the roll, maybe even crease it, as the brim will have a tendency to uncurl some when you let it go.
Personalize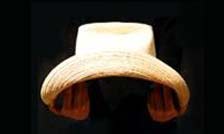 Step Four: For a nice front-to-back curve, stretch the hat lengthwise with your fingers from the inside while pulling down on the ends of the brim with your thumbs.
Additional Info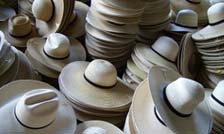 Wet, your hat will be hard and rigid and feel smaller. Dry, it will be flexible and remember its new shape if crushed. It will not shrink or stretch but will conform to the shape of your head.
Water is the key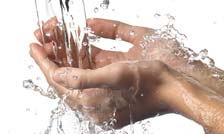 Extreme dryness will make you hat brittle. In dry weather an occasional dousing will keep your hat fresher and make it last longer.