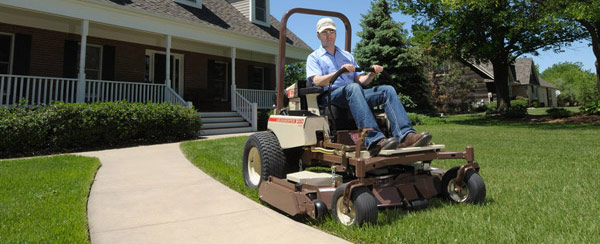 Grasshopper Commercial Mowers
Grasshopper mowers are built tough to stand up to the most demanding applications and deliver the highest quality cut. Every Grasshopper is designed for strength and durability without excess weight to provide superb agility with a light footprint.
With precision robotically welded, high-grade steel tubular exoSkeletal™ frame and I-beam reinforcement, Grasshopper mowers are built to last. True metallic fenders and lower ingestion guards shroud internal components from harsh elements and the hazards of commercial mowing.
Anvil-edged DuraMax® decks get their geometric strength from a combination of heavy-gauge, formed steel construction and a 1/2-inch-thick reinforced, angled leading edge.
Powerful, durable overhead valve, horizontal crankshaft engines offer better cooling, airflow and internal lubrication. The horizontal alignment also provides better power transfer to the cutting decks and implements.
Grasshopper mowers also feature:
Massive 8-inch spindle flanges anchored to double layers of robotically welded formed steel in a 6-bolt pattern spread the force of impact for greater strength in commercial applications. Triple strength decks are nearly 1 inch thick in stress zones with durable Sentry™ spindles mounted on spindle planes that are more than 25% thicker than 1/4 inch. Spindle guards shield the housing and seal lower bearings from grass wrap and dirt ingestion. High-impact, high-rotational speed bearings with durable seals for spindle longevity.


GrassMax™ blade system optimizes mowing results with high-strength, tempered steel blades that cut close to deck edges to help eliminate secondary trimming. Choose from a range of specialty blades to suit your application.


A spring-tensioned idler arm system transfers power in a flat plane to specially designed Kevlar® cord belts. Large idlers extend belt life.


A complete range of year-round implements can equip any Grasshopper Front Mount™ zero-turn mower to handle just about any grounds maintenance job imaginable and extend the productivity - and profitability - of the tractor well beyond the normal cutting season


Contact us today to request a quote or schedule a demo to see a Grasshopper Mower in action!
Las Cruces, NM (HQ) - 575-382-3540


Albuquerque, NM - 505-881-4111